Sump Pump in Wrightsville, PA 17368
Does your Wrightsville Sump Pump need service?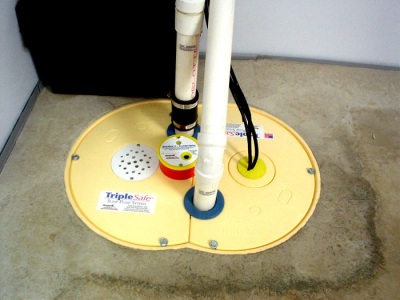 With the weather we get in Wrightsville, you can never know what to expect. Your sump pump is designed to keep your basement safe from flooding, but there are times when it just can't keep up. For times like these, Drain King Plumbing And Drain Services is here to take care of all your Wrightsville Pennsylvania sump pump needs.
Since 1992, we've been hard at work learning everything there is to know about Wrightsville Pennsylvania sump pump installation and repair. How old is your sump pump? If it is more than seven years old, it's time to get a new one. Not just any will work, however. Depending on the size of your home, your Wrightsville sump pump may need to be of a specific size or power. Luckily, Drain King Plumbing And Drain Services can work with you to choose the best sump pump for your home's needs. We know how to prepare your sump pump for the worst rain Wrightsville has to offer.
There are times when your Wrightsville sump pump just can't keep up with the barrage of rain. In these situations, Drain King Plumbing And Drain Services strives to repair your Wrightsville sump pump as soon as possible so your basement doesn't become ravaged by mold and decay.
We can also help you discuss backup batteries in the event that the power to your Wrightsville sump pump gets cut. If a storm gets so bad that it knocks out the electricity, your sump pump will stop working. This is why you can call Drain King Plumbing And Drain Services to talk about backup power options.
With so many companies out there working on sump pumps in Wrightsville Pennsylvania, it might seem hard to choose one. The choice is easy...call the Drain King Plumbing And Drain Services sump pump experts at (717) 220-5487 to get the fastest, most reliable service in Wrightsville!
---
WHAT CUSTOMERS ARE SAYING:
5★★★★★ - "Did excellent work at a very fair price. Would definitely use again!"
Dave Stuchlik in Harrisburg, PA
---
5★★★★★ - "Mike and his crew are amazing! I had a plumbing issue in the evening on the weekend and they were there within the hour. They fixed the problem, were neat and courteous and the final bill was much less then I expected. I wish I could give them more then 5 stars and recommend then for plumbing repairs and improvement whole heartedly! I have them on speed dial for any future plumbing issues and for some improvements I have been wanting to do. Thanks guys!"
K. White in York, PA
---
---
Call for an Estimate
---
Sump Pump available in the following Wrightsville, PA zip codes: